Barcelos: Flame-grilled chicken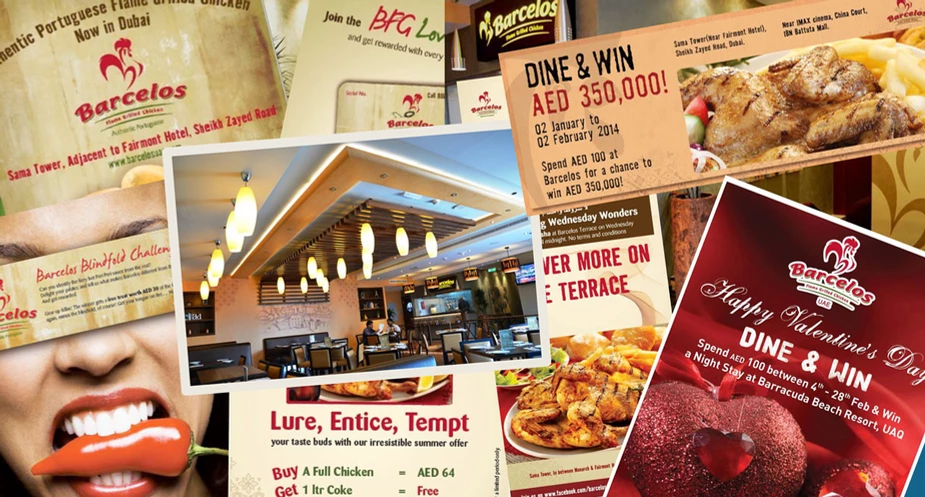 Barcelos set a trend in the UAE's culinary culture with the opening of its first casual dining restaurant on Shaikh Zayed Road. The Portuguese brand created a reputation as the dream of chicken fans. Barcelos prepared the mouth-watering with spice of the original Peri-Peri flavors from Portugal.
The challenge
Barcelos sought to build its brand in a highly competitive culinary market with a plan to open more outlets in the UAE within three years.
The solution
The Watermelon team presented a different approach on branding with focus on interior conceptualization for creating positive vibes in visitors' minds. The activation included photography, and branding with external and signage and inside restaurant, creating content for press interactions, social media and print ads. The campaign focused on introducing Portuguese cuisine to the Arab customers by communicating in the local language (Arabic).

The mood visuals were followed by branding of exterior and interior walls – which include tent card, name plates, lighting suggestions, tent cards, and rollups. Photographs of the outlet on Facebook feeds to drive audience.
The impact
The mouth-watering menu options were snapped up by the UAE residents. Restaurants began getting visitors before the formal launch. The press conference created an impactful announcement of the Barcelos launch in the UAE. The event was attended by media across platforms (print, radio, and broadcast).
Barcelos F&B vouchers were given as media gifts that drove the media to visit the restaurant and enjoy the authentic Portuguese taste. Media carried stories about Peri-Peri, and established the CEO as an authority on afro-Portuguese cuisine and culture.
All campaigns were promoted across print, radio, social and digital media platforms.